Triple Line brought 10 years of fund management experience to design and deliver all systems necessary to launch a new civil society grant programme, the £141 million Global Poverty Action Fund, in 2010. Five years later, we had worked with more than 150 civil society organisations, supporting and mentoring them – as well as managing their grants – to deliver more than 180 projects focused on contributing to the achievement of off-track global development goals, in the least developed countries of the world.
Launched in 2010, the Global Poverty Action Fund (GPAF) was a £141 million programme of the Department for International Development (DFID) (now the Foreign, Commonwealth and Development Office, FCDO), which provided grants to small and medium-sized international and national civil society organisations working at the local level to reduce poverty and contribute to the achievement of off-track global development goals. GPAF grants were available to CSOs working in 28 focal countries as well as the bottom 50 Human Development Index (HDI) countries, in support of activities that would bring tangible change to the lives of poor women, girls, men and boys.
In order to deliver this new grant programme, DFID appointed Triple Line, in a joint venture with Crown Agents, to design and implement all systems necessary to run the programme effectively and efficiently. This included systems for launching individual grant rounds, selecting projects to support, working with grantees to set up systems for financial management and reporting as well as performance and risk management and aggregating results at the programme level. Underlying principles of ensuring value for money and appropriate consideration of gender and diversity were essential requirements at the levels of both programme management and individual grants.
Having worked on fund management of the Civil Society Challenge Fund since 2000, the Triple Line team was able to hit the ground running
Having worked with DFID on fund management of the Civil Society Challenge Fund (CSCF) since 2000, as well as the Development Awareness Fund, the Triple Line team was able to hit the ground running. Crucially, we understood the importance of ensuring that calls for proposals reached the right sort of organisation, with clear guidance and transparent information on thorough but fair selection criteria and processes to help applicants prepare good quality and relevant proposals. We knew that it is essential to establish a productive, supportive relationship with grantees from the outset, to help them to manage project performance and encourage them to inform us of challenges faced as well as their successes, while at the same time carefully accounting for the use of grant funds. We also understood the need for flexible resourcing of fund management services, responding to peaks and troughs in demand and a growing portfolio of funded projects.
We met these requirements by working closely with DFID and the independent advisory board in the early stages to develop and then continuously improve and refine the fund management processes to ensure that the programme remained on track to meet its objectives. We held meetings with DFID programme managers every two weeks to review progress and discuss portfolio performance and risk management.
The intensity of support and oversight provided to each grantee varied according to need as indicated by a traffic light system reflecting the risk status of each grant, and a draw down pool of experienced consultants provided the flexibility required to respond to peaks in demand such as the appraisal of concept notes and proposals.
Over five years, the team helped DFID to award 182 grants, led by 155 civil society organisations working with more than 465 formal and informal organisations across Africa, Asia and the Caribbean. The careful selection of projects and the ongoing support provided to grantees enabled this global programme to support local actions by civil society organisations who are best placed to address poverty and disadvantage experienced by women, men, girls and boys. Over the duration of the programme, GPAF brought positive changes to the lives of more than six million people, including increased access to health and education services and increased household incomes.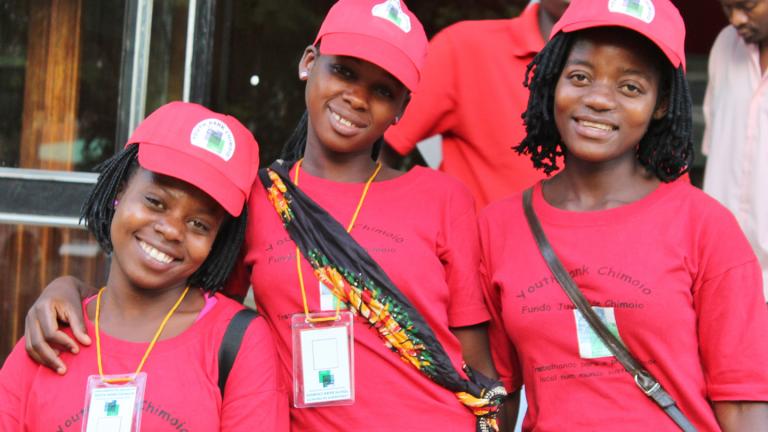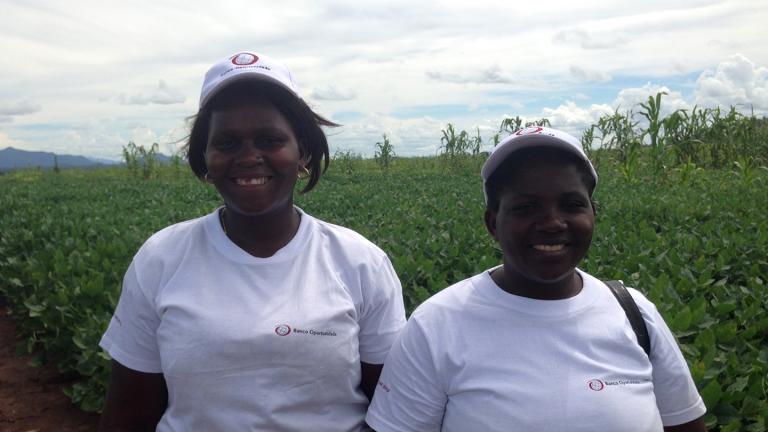 Photos: three members of the Youth Bank Chimoio Committee on the day of the official launch and Felizina Farina and Tendai Mariamo, two members of the Irmaos Junidos group.

"They have never borrowed before and have no other source of income aside from small scale farming. They farm a mix of maise and soya and have been preparing the land by hoe. With access to a loan, they can cultivate a more extensive area under soya (the more profitable cash crop) by hiring tractors to mechanise the process and additional seasonal labour to weed the land. They have increased their production from 30 sacks per ha to 90 sacks and plan to diversify their income sources".